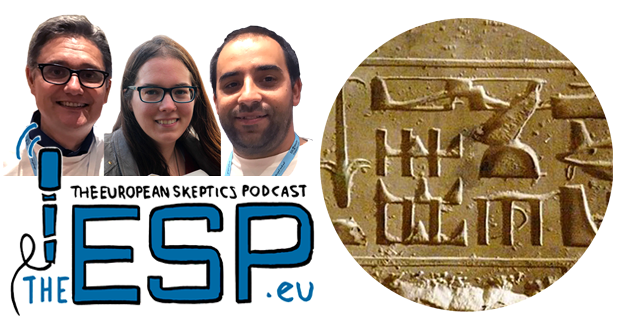 This week we start by reflecting on the death of Prince Philip and just can't help mention languages again since a listener sent us sound files to help us with the pronunciations of last week's Polish names. In This week in Skepticism we hear about the ancient astronaut fantasies of Erich von Däniken, followed by a Covid-19 update before we dig into the news:
Popular marionette theatre targeted for COVID test explanation video
Tendency to take up vaccine is really high
We are fucked – carbon-dioxide levels at all time high despite lockdowns
ECHR rules obligatory vaccination may be necessary
Online hatred against Jews are up
Clare Relton, senior lecturer in clinical trials at Queen Mary University of London, teaches homeopaths how to cheat in randomized control trials. For that she gets this week's prize for being Really Wrong.
Enjoy!
Segments:
Intro; Greetings; This Week; Covid-19 Update; News; Really Wrong; Quote and Farewell; Outro
The Events Calendar: https://theesp.eu/events_in_europe
0:00:26 INTRO
0:00:51 GREETINGS
0:12:36 THIS WEEK IN SKEPTICISM
Erich von Däniken, author of Chariots of the Gods?, was born on 14 April 1935
0:20:14 COVID-19 UPDATE
AstraZeneca
Sputnik V
Chinese vaccines
0:29:17 NEWS
GERMANY: Popular marionette theatre targeted for COVID test explanation video
SWEDEN: Tendency to take up vaccine is really high
INTERNATIONAL: We are fucked – carbon-dioxide levels at all time high despite lockdowns
CZECH REPUBLIC: ECHR rules obligatory vaccination may be necessary
ISRAEL: Online hatred against Jews are up
0:47:24 REALLY WRONG
REALLY WRONG: Clare Relton, homeopath and researcher at Queen Mary University London, for teaching how to cheat RCTs
0:53:30 QUOTE AND FAREWELL
"What can be asserted without evidence can also be dismissed without evidence".
/ Christopher Hitchens (13 April 1949 – 15 December 2011), English intellectual, polemicist, and socio-political critic. /
0:54:39 OUTRO