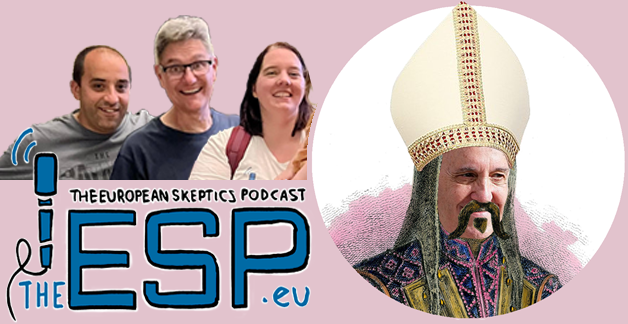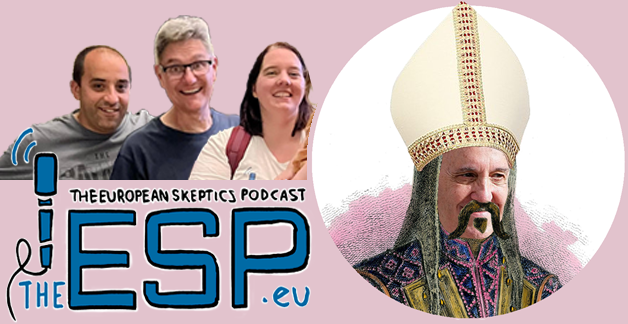 Several awards and gatherings to be on the look-out for: the Ockham Award, the Rusty Razor, the Bent Spoon and Das Goldene Brett. The feast of Santa Rosalia is the topic for TWISH and Pope Frankie is nostalgic about the Mongolian invasion (wtf?). Then, we have this week's news:
GERMANY: Follow-up on the Reichsbürger movement
INTERNATIONAL: Prediction of 1 billion+ deaths related to climate change by 2100
SCOTLAND: Issues with science publishing – Researcher finds his name on editorial boards of journals he hasn't even heard of
SWEDEN / INTERNATIONAL: New measles cases in Stockholm
UK: Country can no longer be considered christian
Swedish science journalist Maria Gunther gets the award for being Really Right and in Word of the Week Carl Sagan get translated to Norwegian: 'påstander' means 'claims and 'bevis' means 'evidence'.
Enjoy!
Segments: Intro; Greetings; TWISH; Pontus Pokes The Pope; News; Really Right; Word Of The Week; Quote And Farewell; Outro; Out-Takes

0:00:27 INTRO
0:00:50 GREETINGS
Nominations for the Ockham and Rusty Rasor awards are open until 17 September
The Bent Spoon Awards are open for nominations as well
Skeptical Walk in Cologne
Nominations for Das Goldene Brett
0:12:32 TWISH – THIS WEEK IN SKEPTICAL HISTORY
4 September 1624: The Feast and Pilgrimage of Santa Rosalia in Palermo (or maybe that of the Holy Goat?)
0:23:23 PONTUS POKES THE POPE
Frankie praises Genghis Khan and the Mongol Empire for their 'absence of conflicts'
0:27:43 NEWS
GERMANY: Follow-up on the Reichsbürger movement
INTERNATIONAL: Prediction of 1 billion+ deaths related to climate change by 2100
SCOTLAND: Issues with science publishing – Researcher finds his name on editorial boards of journals he hasn't even heard of
SWEDEN / INTERNATIONAL: New measles cases in Stockholm
UK: Country can no longer be considered christian
0:45:56 REALLY RIGHT
Really Right: Swedish science journalist Maria Gunther for putting nuclear risks in perspective
0:50:34 WORD OF THE WEEK
NORWEGIAN:
Påstander – 'claims', Bevis – 'evidence'
'Ekstraordinære påstander krever ekstraordinære bevis' => 'Extraordinary claims require extraordinary evidence'
0:54:08 QUOTE AND FAREWELL
"We must learn to live with contradictions, because they lead to deeper and more effective understanding."
/ Edward Teller , [Hungarian: Teller Ede] (January 15, 1908 – September 9, 2003), Hungarian-American theoretical physicist who is known colloquially as 'the father of the hydrogen bomb' and one of the creators of the Teller–Ulam design. /
0:57:24 OUTRO
0:58:38 OUT-TAKES