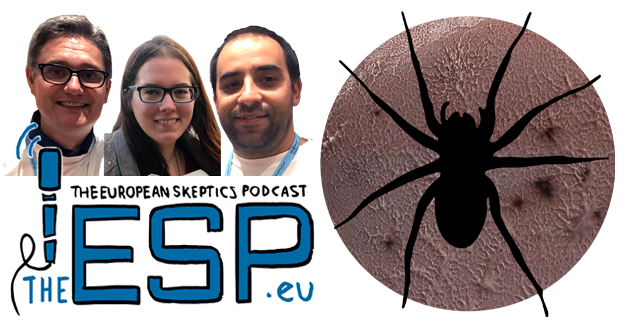 This week we first continue to ponder the strange topic of language and we congratulate the Portuguese Skeptics on the anniversary of founding their organization ComCept. Then we have a Covid-19 update before we dig into the news:
Analysis of excess mortality in Europe in 2020
NEW BOOK: Missing Minimum Distance
Spooky Martian spider shapes explained
First helicopter on another planet to go on first mission soon
The 2020 Flying Unicorn Award goes to… Doctors for Truth (Nominations open for 2021)
Nominations for the 2021 Maddox Prize now open
The success story of pharmacy students bringing vaccine science to classrooms
The veterinarian Geert Vanden Bossche gets a Really Wrong for discrediting covid-vaccines using pseudoscientific misinformation.
Enjoy!
Segments:
Intro; Greetings; This Week; Covid-19 Update; News; Really Wrong; Quote and Farewell; Outro
The Events Calendar: https://theesp.eu/events_in_europe
0:00:26 INTRO
0:00:51 GREETINGS
Words that don't mean what you think?
0:05:47 THIS WEEK IN SKEPTICISM
The Portuguese Skeptics, ComCept, was founded on 5 april 2012
0:8:10 COVID-19 UPDATE
Oxford/AstraZeneca – so, it's true then?
Sputnik V under review by EMA
Vaccinated and still positive
WHO Europe Region's concerns
0:24:01 NEWS
EUROPE: Analysis of excess mortality in Europe in 2020
GERMANY: NEW BOOK: Missing Minimum Distance
UK: Spooky Martian spider shapes explained
UK: First helicopter on another planet to go on first mission soon
PORTUGAL: The 2020 Flying Unicorn Award goes to… Doctors for Truth (Nominations open for 2021)
INTERNATIONAL: Nominations for the 2021 Maddox Prize now open
POLAND: The success story of pharmacy students bringing vaccine science to classrooms
0:46:18 REALLY WRONG
REALLY WRONG: Veterinarian Geert Vanden Bossche for spreading fear of vaccines with science sounding nonsense
0:52:05 QUOTE AND FAREWELL
"In the sciences the authority of thousands of opinions is not worth as much as one tiny spark of reason in one individual. Besides, the modern observations deprive all former writers of any authority, since if they had seen what we see, they would have judged as we judge."
/ Galileo Galilei (15 February 1564 – 8 January 1642), Italian astronomer, physicist and engineer and polymath. /
0:53:43 OUTRO