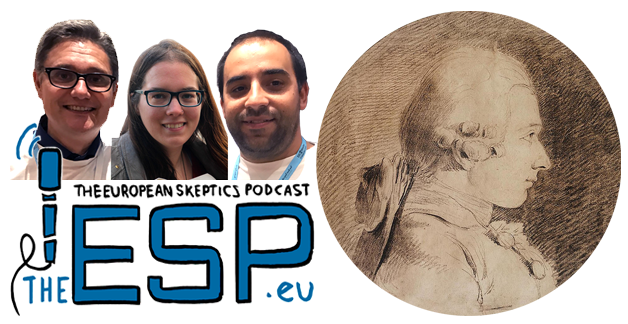 This week we find out what Pontus was up to last week, we honor the passing of the great skeptic Kees de Jager and note that covid vaccination for teenagers is coming. Listener Carlos helps us out with Portuguese pronunciation and we urge you to nominate someone for the John Maddox Prize before 14 June. We acknowledge that Marquis de Sade was born this week in 1740 and that the Pope thinks Brazilians are too drunk to deserve salvation. After that, it's time to get a covid-19 update and to check out the news:
Influencers offered money to spread Pfizer misinformation
EC proposes tougher rules and more factchecking to tackle misinformation
Climate Skeptics are not easily persuaded by evidence
World may hit 1,5 degrees warming within five years
In addition, prioritizing the EUFA Champions League football final over covid safety is Really Wrong.
Enjoy!
Segments: Intro; Greetings; This Week In Skepticism; Pontus Pokes the Pope; Covid-19 Update; News; Really Wrong; Quote & Farewell; Outro; Out-takes
The Events Calendar: https://theesp.eu/events_in_europe
0:00:26 INTRO
0:00:51 GREETINGS
The passing of Kees de Jager
Pontus' vaccination schedule has commenced
CoViD vaccine for children
Help from Carlos with Portugese pronunciation
John Maddox Prize (possible segue: the portugese doctor could be nominated):
0:15:12 THIS WEEK IN SKEPTICISM
Happy Birthday, Marquis de Sade, born on 2 June 1740
0:21:29 PONTUS POKES THE POPE
No salvation for brazilians: "Troppa cachaça, niente preghiera"
0:33:04 COVID-19 UPDATE
On the origins of Sars-CoV-2
0:39:35 NEWS
FRANCE: Influencers offered money to spread Pfizer misinformation
EU: EC proposes tougher rules and more factchecking to tackle misinformation
INTERNATIONAL: Climate Skeptics are not easily persuaded by evidence
INTERNATIONAL: World may hit 1,5 degrees warming within five years
0:57:05 REALLY WRONG
Really Wrong: Champions League final in Porto, Man City vs. Chelsea
0:59:16 QUOTE AND FAREWELL
"Science doesn't purvey absolute truth. Science is a mechanism. It's a way of trying to improve your knowledge of nature. It's a system for testing your thoughts against the universe and seeing whether they match. And this works, not just for the ordinary aspects of science, but for all of life. I should think people would want to know that what they know is truly what the universe is like, or at least as close as they can get to it."
/ Isaac Asimov (2 January 1920 – 6 April 1992), American writer and professor of biochemistry at Boston University. /
1:01:12 OUTRO
1:02:27 OUT-TAKES