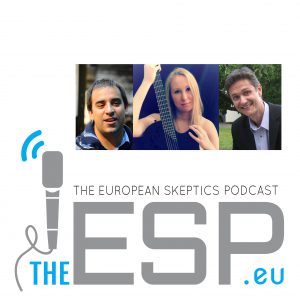 On this episode, you'll find news, events and interesting topics, including open access to science journals in Europe, homeopathy in Germany, the state of GMO bans across the continent and pseudoscience in Greece. Also, Pontus reports from Stockholm Skeptics in the Pub, featuring a short interview with vice president of the Swedish Skeptics, Peter Olausson.

Segments
Intro; Greetings & Feedback; On this day; What's on in Europe?; What's hot in Europe?; Pontus reports; Logical Fallacies; Really Right; Quote

Show notes:
00:00:00
INTRO music

00:00:26
Greetings & feedback
00:07:27
On This Day: 3rd June
Otto Loewi (3 June 1873 – 25 December 1961) was a German-born pharmacologist and psychobiologist whose discovery of acetylcholine helped enhance medical therapy.
00:12:49
What's on in Europe?
00:20:02
What's Hot in Europe?
Open Access to all scientific research by 2020?
German homeopaths found evidence that homeopathy works?
Call for a review of the European GM ban
Greek PM's advisor spreads pseudo-medicine
00:52:35
Pontus Reports – Stockholm Skeptics in the Pub
Talking to Peter Olausson, recently appointed vice President of VoF.
00:58:13
Logical Fallacies – Spotlight Fallacy
01:06:50
Really Right: The Swedish Medical Association, for taking a stand against Anthroposophy
01:13:52
Quote
"The correct statement of individual rights is that everyone has the right to an opinion, but crucially, that opinion can be roundly ignored and even made fun of, particularly if it is demonstrably nonsense!"
/Brian Cox, British physicist, and Advanced Fellow of particle physics in the School of Physics and Astronomy at the University of Manchester/

01:16:47
Outro

01:18:02
Out-takes