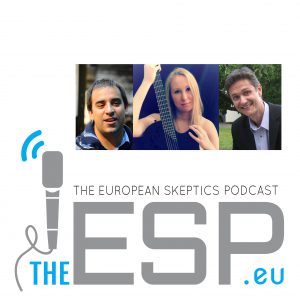 On this episode, you'll find news, events and interesting topics, including Brexit, Sense About Science to open EU office, NHS Liverpool to stop funding homeopathy and Marko Kovic, president of Skeptiker Schweiz publishes an article on the concept of critical thinking.

Segments
Intro; Greetings & Feedback; On this day; What's on in Europe?; What's hot in Europe?; Logical Fallacies; Really Wrong; True or False?; Quote

Show notes:
00:00:00
INTRO music

00:00:26
Greetings & feedback
00:15:46
On This Day: 1st July
The death of Anneliese Michel
00:23:48
What's on in Europe?
00:30:11
What's Hot in Europe?
NHS Liverpool CCG to stop funding homeopathy
A Generalised definition of critical thinking?
00:33:36
Logical Fallacies – Magical thinking
00:38:14
Really Wrong: Ancient abortion laws in Northern Ireland (challenged)
00:42:39
True or False?
In the early 1900s an American charlatan (who claimed to be a doctor) claimed he could cure impotence, infertility and other sexual problems by surgically implanting goat testicles into men's scrotum (https://en.wikipedia.org/wiki/John_R._Brinkley)
In ancient Egypt the contraceptive of choice was crocodile dung. Dried dung was inserted into the vagina, the idea being that it would soften as it reached body temperature to form an impenetrable barrier (http://www.dailymail.co.uk/tvshowbiz/article-12540/When-crocodile-dung-contraception.html)
An immunologist of university in New Deli deliberately endured more than 160 self-inflicted snake bites in a bid to become immune to venom and to develop a vaccine against snake bites.
00:53:22
Quote
"The trouble with the world is that stupid are cocksure and the intelligent are full of doubt"
/Bertrand Russell, British philosopher/

00:54:53
Outro

00:56:07
Out-takes