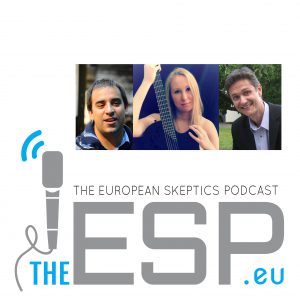 On this episode, you'll find news, events and interesting topics, including Brexit, problems with science writing, British veterinarians to call for action against the use of homeopathy & the fallacy of political correctness.

Segments
Intro; Greetings & Feedback; On this day; What's on in Europe?; What's hot in Europe?; Logical Fallacies; Really Wrong; Quote

Show notes:
00:00:00
INTRO music

00:00:26
Greetings & feedback

00:04:01
On This Day: 15th July
The end of Spanish Inquisition (1834)
00:09:45
What's on in Europe?
00:17:22
What's Hot in Europe?
Post Brexit problems with funding research in the UK?
Evolutionary forces behind bad science?
Greenpeace called for leaving GMOs alone
Veterinarians in the UK calling for a ban on homeopathy in their practices
00:45:55
Logical Fallacies – Political correctness
00:55:26
Really Wrong: Shaman serves drugs in Swedish summer camp "Inner Evolution Retreat"
01:00:00
Quote
"We are just an advanced breed of monkeys on a minor planet of a very average star. But we can understand the Universe. That makes us something very special."
/ Stephen Hawking, English theoretical physicist/

01:01:40
Outro

01:02:54
Out-takes