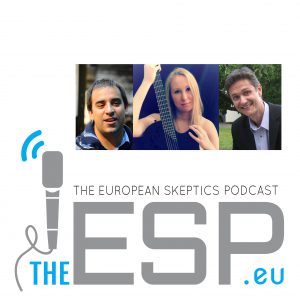 On this episode, you'll find news, events and interesting topics, including QED, Rosetta, ComCept officially instituted, ECSO website launched, The Good Thinking Society winning another battle, Spanish pharmacists taking action against selling homeopathy, Swedish people leaving church, BBC report revealing shocking training for autistic people, 'My Scientology Movie' not screening in Ireland and the Swedish Democrat Party pushing for equality of Medicine and CAM. 
Segments
Intro; Greetings & Feedback; On this day; What's on in Europe?; What's hot in Europe?; Really Wrong; Announcements; Quote


 
Show notes:
00:00:00
INTRO music
00:00:26
Greetings & feedback
00:10:14
00:12:46
What's on in Europe?
00:24:00
What's Hot in Europe?
Another NHS CCG to stop funding homeopathy

Homeopaths in the UK to follow strict advertising guidelines

Pharmacists in Spain protesting against the selling of homeopathic products in pharmacies

Swedish church losing followers

Hungarian guy claimst to be able to "train people" out of autism

My Scientology Movie not to be released in Ireland
00:48:26
Really Wrong: Swedish Democrat party moves to equate Alternative medicine with Conventional medicine
00:53:49
Quote
"A great truth wants to be criticized not idolized"
/Friedrich Nietzsche, German philosopher/
00:55:07
Outro
00:56:22
Out-takes