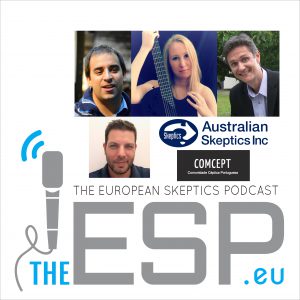 On this episode, you'll find news, events and interesting topics, including Skepsis, the Norwegian skeptical organisation revitalised, the status of homeopathy in the Czech Republic, AllTrials starts TrialsTracker, an automated tool to find unpublished trials, a German university to offer a homeopathy course, James Randi receives the first Oberhummer Prize in Vienna, CICAP launches the next Mystery Investigator Course in Padova and El Esceptico Nr. 45 is out of the print. Also featuring a report from QED 2016 with Eran Segev from the Australian Skeptics as well as Diana Barbosa and Joao Monteiro from ComCept, the Portugese Skeptic Community.
 
Segments
Intro; Greetings & Feedback; On this day; What's on in Europe?; What's hot in Europe?; QED report; Really Wrong; Quote
 
Show notes:
00:00:00
INTRO music
 
00:00:26
Greetings & feedback
00:10:41
On This Day: 21st November 
François-Marie Arouet AKA Voltaire (born 21st Novembr 1694)
Biography of Voltaire on Biography.com
 
00:14:34
What's on in Europe?
00:25:09
Hot in Europe
Norwegian Skeptics to revitalize their organization (Skepsis)
Homeopathy in the Czech Republic
AllTrials launches TrialsTracker
German medical school offers course on Homeopathy
James Randi to receive Science prize in Vienna on 24 November
CICAP opens new "Mystery Investigators" course for applications
00:46:54
QED-report:
Interview with Eran Segev, president of Australian Skeptics Inc.
Diana Barbosa and Joao Monteiro from ComCept (Portugal)
01:03:33
Really Wrong
Davide Vannoni, Italian stem cell quack
01:09:05
El Esceptico 45 out soon
Quote
"It is better to debate a question without settling it than to settle a question without debating it"
/Joseph Joubert, French moralist and essayist/
 
01:12:00
Outro
01:13:11
Out-takes