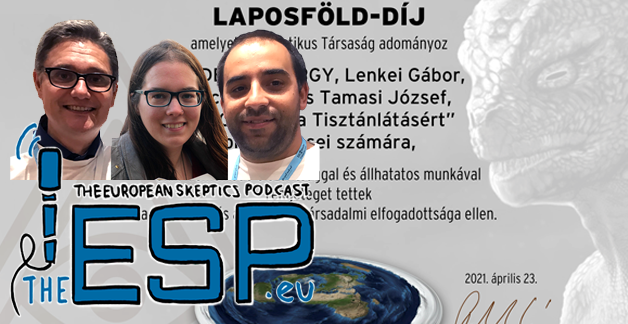 This week we first chat a bit and celebrate that we finally have new dates for QED, the fantastic skeptical conference in Manchester, before we mark that it is 35 years this week since the Chernobyl disaster. We hear about Pope Francis' impossible gig and then we have a Covid-19 update before we dig into the news:
Study explores AstraZeneca vaccine disinformation on Twitter
German actors protest against CoViD rules with weird satire
Pfizer confirms fake versions of vaccine in Poland and Mexico
First ever Flat Earth Award goes to…
Anthroblogger nominated for Grimme online award
Think like Da Vinci and understand the world's problems better
The Tobacco Industry gets this week's award for being Really Wrong for continuing to pay for fake science.
Enjoy!
Segments:
Intro; Greetings; This Week; Pontus Pokes the Pope; Covid-19 Update; News; Really Wrong; Quote and Farewell; Outro; Out-takes
The Events Calendar: https://theesp.eu/events_in_europe
0:00:26 INTRO
0:00:51 GREETINGS
QED dates announced for February 2022
0:12:54 THIS WEEK IN SKEPTICISM
Chernobyl disaster happened on 26 April 1986
0:27:42 PONTUS POKES THE POPE
Being the pope – an impossible job
0:31:45 COVID-19 UPDATE:
It's European Immunization Week, everyone!
Swedish regions have the highest infection rates in Europe
0:44:39 NEWS
INTERNATIONAL: Study explores AstraZeneca vaccine disinformation on Twitter
GERMANY: German actors protest against CoViD rules with weird satire
POLAND / INTERNATIONAL: Pfizer confirms fake versions of vaccine in Poland and Mexico
HUNGARY: First ever Flat Earth Award goes to…
GERMANY: Anthroblogger nominated for Grimme online award
UK: Think like Da Vinci and understand the world's problems better
1:07:29 REALLY WRONG
REALLY WRONG: Tobacco Industry backed paper suggesting smoking is linked to lower COVID-19
1:11:39 QUOTE AND FAREWELL
"There are problems to whose solution I would attach an infinitely greater importance than to those of mathematics, for example touching ethics, or our relation to God, or concerning our destiny and our future; but their solution lies wholly beyond us and completely outside the province of science."
/ Carl Friedrich Gauss (30 April 1777 – 23 February 1855), German mathematician and physicist. /
1:15:11 OUTRO
1:16:26 OUT-TAKES