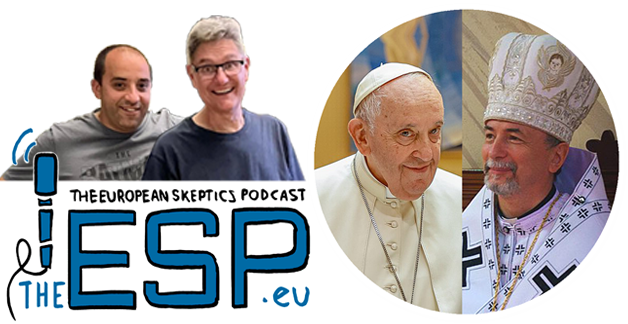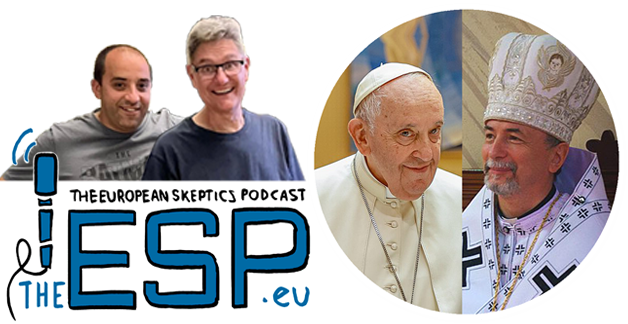 …and Nessie goes 'gloop'

We're happy to announce that the ESP Shop is now available in the US, Canada and Australia. We also want you to know that nominations for Das Goldene Brett is still open. In TWISH we hear about an encounter of the third kind and Frankie insists India don't look the congregation in the eye more than half of the time. Then we get into the news:
SCOTLAND: Nessie hunters hear sounds but fail to record them
UK: Full Fact study – Hundreds of hoax posts circulating in Facebook groups
INTERNATIONAL: Scientific journal retracts article that claimed there is no evidence of climate crisis
INTERNATIONAL: Study reveals connection between support for SCAM and vaccine hesitancy among physicians in four European countries
We award Swedish activist Ia Anstoot a Really Right for calling out the unscientific stance of Greenpeace when it comes to nuclear power.
Enjoy!
Segments: Intro; Greetings; TWISH; Pontus Pokes The Pope; News; Really Right; Quote And Farewell; Outro; Out-Takes

0:00:27 INTRO
0:00:50 GREETINGS
The ESP Shop update
Nominations still open for Das Goldene Brett
0:07:02 TWISH – THIS WEEK IN SKEPTICAL HISTORY
29 August 1967: Close encounter of Cussac
0:11:51 PONTUS POKES THE POPE
Papal envoy acting like 'inquisitor of the Middle Ages'
0:17:28 NEWS
SCOTLAND: Nessie hunters hear sounds but fail to record them
UK: Full Fact study – Hundreds of hoax posts circulating in Facebook groups
INTERNATIONAL: Scientific journal retracts article that claimed there is no evidence of climate crisis
INTERNATIONAL: Study reveals connection between support for SCAM and vaccine hesitancy among physicians in four European countries
0:36:54 REALLY RIGHT
Really Right: Young climate activist Ia Anstoot for telling Greenpeace to drop 'old-fashioned' anti-nuclear stance
0:44:34 QUOTE AND FAREWELL
"'Chinese medicine, oh, Chinese medicine! But there are billions of Chinese, Chinese medicine must be working.'
Here's the skinny on Chinese medicine. A hundred years ago the average life expectancy in China was 30. The life expectancy in China at the moment is 73. And it's not feckin' tiger penis that turned it around for the Chinese. Didn't do much for the tiger, if you don't mind me pointing that out."
/ Dara Ó Briain (7 February 1972 – ), Irish comedian and television presenter,
based in the UK. /
0:46:51 OUTRO
0:48:06 OUT-TAKES