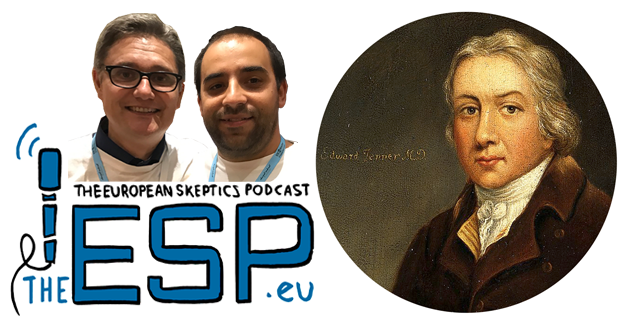 This week we wish Annika all the best in recovering from her first vaccine shot, we learn how to properly pronounce Cardinal 'Becchiu' and hear about this week's birthday boy, Edward Jenner. Pope Francis tries to fight the pandemic with a totally pointless marathon and then we proceed on to check out the news:
Instead of a Covid update: watch the latest episode of Last Week Tonight With John Oliver
Counterfeit covid-19 certificates – digitally signed without doctor's knowledge
The Heinz Oberhummer Award goes to…
Facebook to warn you when you're about to share something you haven't read
ASA: Homeopaths are not suitably qualified health professionals and claims for homeopathy are improper
Before we go, we hand out an unusual Really Right to members of the German Catholic 'Leibe Gewinnt' initiative.
Enjoy!
Segments: Intro; Greetings; This Week In Skepticism; Pontus Pokes the Pope; News; Really Right; Quote & Farewell; Outro; Out-takes
The Events Calendar: https://theesp.eu/events_in_europe
0:00:50 GREETINGS
Annika got her vaccine shot yesterday
the Pronunciation Aid Project – Cardinal Becchiu
0:04:55 THIS WEEK IN SKEPTICISM
14 May 1796 – Edward Jenner administers the first smallpox inoculation
0:15:22 PONTUS POKES THE POPE
0:20:31 NEWS
INTERNATIONAL: Instead of a Covid update: watch the latest episode of Last Week Tonight With John Oliver
SWEDEN: Counterfeit covid-19 certificates – digitally signed without doctor's knowledge
AUSTRIA: The Heinz Oberhummer Award goes to…
INTERNATIONAL: Facebook to warn you when you're about to share something you haven't read
UK: ASA: Homeopaths are not suitably qualified health professionals and claims for homeopathy are improper
0:36:15 REALLY RIGHT
REALLY RIGHT: The Catholic priests backing the "Liebe Gewinnt"-initiative in Germany
0:41:52 QUOTE AND FAREWELL
"I hope that some day the practice of producing cowpox in human beings will spread over the world. When that day comes, there will be no more smallpox."
/ Edward Jenner (17 May 1749 – 26 January 1823), English physician and scientist. /
0:43:17 OUTRO
0:44:30 OUT-TAKES