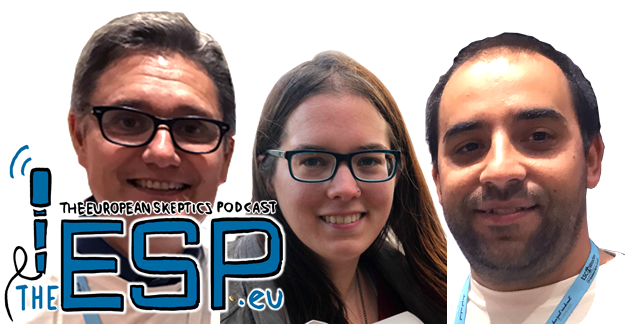 This week Pontus is still mad at English spelling but we hope our listeners will forgive him. In history René Descartes was born this week, the pope cuts the payroll for his cardinals and we have a Covid-19 update before we check out the news:
Court case against SCAM practitioner
NEW BOOK – the Cheaters, about Macchiarini and fraudulent research
NEW BOOK – The great bazaar of irrational
Cheap wine tastes better with a higher price tag
Old-growth forest effect in climate mitigation overestimated
The Czech Cardinal and Archbishop of Prague Dominik Duka gets a Really Wrong this week using the pandemic as an excuse to peddle anti-abortion propaganda.
Enjoy!
Segments:
Intro; Greetings; This Week; Pontus Pokes the Pope; Covid-19 Update; News; Really Wrong; Quote and Farewell; Outro; Out-takes
The Events Calendar: https://theesp.eu/events_in_europe
0:00:26 INTRO
0:00:52 GREETINGS
0:04:13 THIS WEEK IN SKEPTICISM
René Descartes was born on 31 March 1596
0:08:06 PONTUS POKES THE POPE
Hard times in the Vatican – payroll cuts for Cardinals
0:14:44 COVID-19 UPDATE
Expression of concern for paper claiming COVID was present in Italy in 2019
0:17:48 NEWS
GERMANY: Court case against SCAM practitioner
SWEDEN: NEW BOOK – the Cheaters, about Macchiarini and fraudulent research
FRANCE: NEW BOOK – The great bazaar of irrational
SWITZERLAND: Cheap wine tastes better with a higher price tag
DENMARK: Old-growth forest effect in climate mitigation overestimated
0:31:18 REALLY WRONG
REALLY WRONG: Czech Cardinal turns covid remembrance site into an anti-abortion mass
0:34:34 QUOTE AND FAREWELL
"Good sense is, of all things among men, the most equally distributed; for every one thinks himself so abundantly provided with it, that those even who are the most difficult to satisfy in everything else, do not usually desire a larger measure of this quality than they already possess."

/ René Descartes (31 March 1596 – 11 February 1650), French-born philosopher, mathematician, and scientist. /
0:35:52 OUTRO
0:37:07 OUT-TAKES