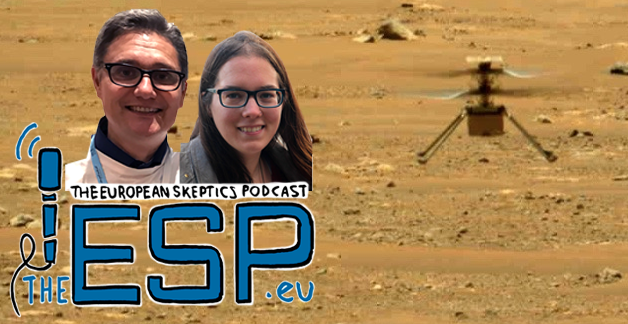 This week we first celebrate the flight of Ingenuity on Mars, the first ever powered flight on another planet. In This week in Skepticism we hear about how Pierre and Marie Curie isolated radium for the first time and what a significant achievement that was. Then we have a Covid-19 update before we dig into the news:
Adverse events in children linked to SCAM
Researchers investigating AstraZeneca vaccine side effects had undisclosed ties to Pfizer
Herbal product behind Salmonella outbreak, three dead
5G does not present "any new risks" according to ANSES
The Norwegian self-appointed "independent health researcher", Hans Kristian Gaarder, gets the first ever posthumously award for being Really Wrong.
Enjoy!
Segments:
Intro; Greetings; This Week; Covid-19 Update; News; Really Wrong; Quote and Farewell; Outro; Out-takes
The Events Calendar: https://theesp.eu/events_in_europe
0:00:26 INTRO
0:00:51 GREETINGS
First ever powered flight with an aircraft on another planet
0:03:54 THIS WEEK IN SKEPTICISM
Marie and Pierre Curie isolated radium for the first time on 20 April 1902
0:07:44 COVID-19 UPDATE:
How to assess the risks of not vaccinatiing against covid-19
0:12:54 NEWS
NETHERLANDS: Adverse events in children linked to SCAM
NORWAY: Researchers investigating AstraZeneca vaccine side effects had undisclosed ties to Pfizer
DENMARK: Herbal product behind Salmonella outbreak, three dead
FRANCE: 5G does not present "any new risks" according to ANSES
0:28:55 REALLY WRONG
REALLY WRONG: Hans Kristian Gaarder, self-appointed "independent health researcher" (now deceased)
0:34:34 QUOTE AND FAREWELL
"In science, you don't just get to cherry-pick the parts that justify what you were going to do anyway! That's religion!"
/ John Oliver (23 April 1977 – ), British-American comedian, writer, producer, political commentator, actor, and television host. /
0:35:46 OUTRO
0:37:01 OUT-TAKES