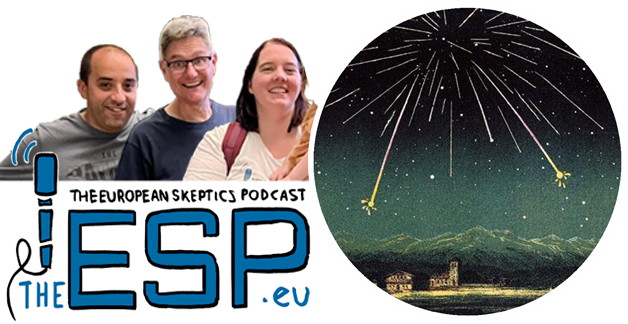 …be mindful of Māņticība
We see signs of climate change all over the place and it's worrying. Taking bus 666 to 'Hel' is not even an option anymore, but thankfully going to QED is still possible! Check out the link for the QED attendance fund if you cannot afford your ticket…
In TWISH we hear about how it really went down when Galileo Galilei was forced to denounce that the Earth in not the center of the universe. A short update of Pope Frankie's latest adventures and then it's time for the news:
FRANCE / SERBIA: 'Novaxx' Djokovic is at it again…!
UK: New study shows less than half of Britons believe in God.
NETHERLANDS: Dutch university can revoke PhD for fake data after court ruling
SPAIN: Homeopathy on the decline in Spain?
EU: Laws regulating AI activities to be passed
GERMANY: Heilpraktiker sent to jail for fraud
We are happy to hand out a Really Right to Estonia that just legalized same-sex marriages and then we get to know this week's Word of the Week which is from Latvia: 'Māņticība' literally means 'false-faith' and could be translated as 'superstition'.
Enjoy!
Segments: Intro; Greetings; TWISH; Pontus Pokes The Pope; News; Really Right; Word Of The Week; Quote And Farewell; Outro; Out-Takes

0:00:27 INTRO
0:00:51 GREETINGS
Are we fucked?
Too late to take the bus to Hel
QED Attendance fund
0:07:49 TWISH – THIS WEEK IN SKEPTICAL HISTORY
22 June 1633: The Galilei affair: Galileo Galilei forced to revoke his views on planetary motion
0:14:17 PONTUS POKES THE POPE
Short update: Pontus was wrong, Ukraine envoy, Synod on Synodality
0:17:37 NEWS
FRANCE / SERBIA: 'Novaxx' Djokovic is at it again…!
UK: New study shows less than half of Britons believe in God.
NETHERLANDS: Dutch university can revoke PhD for fake data after court ruling
SPAIN: Homeopathy on the decline in Spain?
EU: Laws regulating AI activities to be passed
GERMANY: Heilpraktiker sent to jail for fraud
0:39:37 REALLY RIGHT
Really Right: Estonia first Central European state to legalize same-sex marriage
0:42:34 WORD OF THE WEEK
LATVIA: Māņticība' means 'Superstition'
0:46:12 QUOTE AND FAREWELL
"Scientific findings are not enough. Taking into account that today you can really find a study supporting any opinion, it is our role as skeptics to help educate the public about quality sources, manipulation methods, and misinformation methods (…)"
/ Claire Kroulik-Klingenberg (8 July 1992 – ), Czech skeptical activist, feminist, and promoter of critical thinking. /
0:47:39 OUTRO
0:48:54 OUT-TAKES