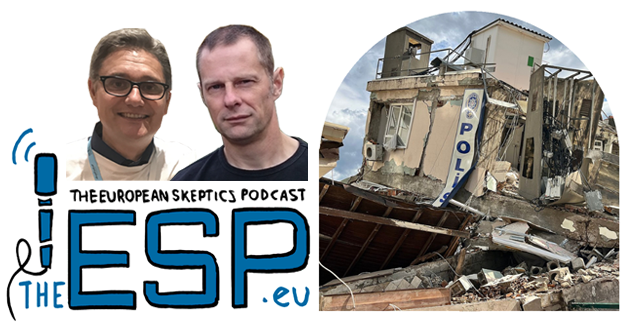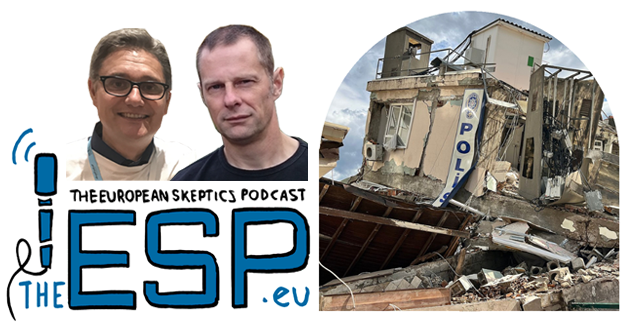 … and Francis strikes against the rebel nuns of Ravello

This week Brian and Pontus takes the lead and talks about the Turkish-Syrian earthquake as well as looking forward to Annika's new WTF adventure (stay tuned!). In TWISH we look at the shenanigans of Elizabeth Holmes who was born this week in 1984, while pope Frankie is busy fighting rebels nuns(!). Then we also have the news:
FRANCE: Naturopathy under fire
TURKEY: Did someone on Twitter predict the earthquake?
INTERNATIONAL: Do face masks work?
AUSTRALIA / UK: Vitamin IV drips is an expensive SCAM
UK: Brexit causes collapse in European research funding for Oxbridge
TURKEY: Lausanne treaty conspiracy
Lots of news outlets (Euronews, Skynews, and even CNN) reported that the Earth's core has stopped spinning and for that they share this week's the Really Wrong Award.
Enjoy!
Segments: Intro; Greetings; TWISH; Pontus Pokes The Pope; News; Really Wrong; Quote And Farewell; Outro; Out-Takes;

0:00:27 INTRO
0:00:55 GREETINGS
Annika and the WTF (Wissenschaft trifft Freundschaft)
0:08:16 TWISH – THIS WEEK IN SKEPTICAL HISTORY
3 February 1984: Elizabeth Holmes was born
0:12:45 PONTUS POKES THE POPE
0:19:14 NEWS
FRANCE: Naturopathy under fire
TURKEY: Did someone on Twitter predict the earthquake?
INTERNATIONAL: Do face masks work?
AUSTRALIA / UK: Vitamin IV drips is an expensive SCAM
UK: Brexit causes collapse in European research funding for Oxbridge
TURKEY: Lausanne treaty conspiracy
0:51:03 REALLY WRONG
Really Wrong: Did the Earth's core stop spinning? News outlets all over got it wrong
0:54:22 QUOTE AND FAREWELL
"I have friends who have said to me in the last couple of years that they are empaths.
Not I'm empathetic, not I'm sympathetic, not I'm patient tolerant or kind, but I am an empath.
Nope.
Like mantis from Guardians of the Galaxy? Like Deanna Troi from Star Trek the Next Generation? Like a demon from Buffy?
No, you are not an empath. You had a human experience. Someone was crying, you made eye contact. Someone looked up from their phone and you were there.
The word you're looking for is narcissist."
/ Jackie Kashian (20 July 1965 – ), American stand-up comedian. /
0:56:39 OUTRO
0:57:54 OUT-TAKES