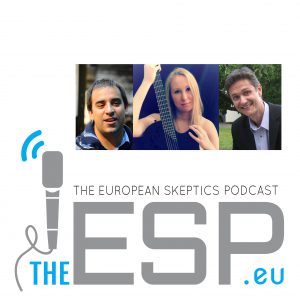 On this episode, you'll find news, events and interesting topics, including Pokémon Go, The Good Thinking Society vs the BBC, banners to indicate retraction in scientific papers, a guy jailed for insulting the Dutch King, scapegoating and the state of exorcism across Europe. Also, we have an interview with Penny Lane, producer and filmmaker whose film 'Nuts!' is a must for all skeptics.

Segments
Intro; Greetings & Feedback; On this day; What's on in Europe?; What's hot in Europe?; Interview with Penny Lane; Logical Fallacies; Really Wrong; Quote

Show notes:
00:00:00
INTRO music

00:00:26
Greetings & feedback
00:08:11
On This Day: 29th July
Eduard Brückner (29 July 1862 – 20 May 1927) was a German geographer, meteorologist, glaciologist and climate scientist.

00:14:27
What's on in Europe?
00:20:57
What's Hot in Europe?
The Good Thinking Society vs the BBC
Makers of 'Vaxxed' threatening law suit against critics
PubMed trying a new method to flag retractions
30 days in jail for insulting the King?
00:33:44
Interview with Penny Lane about her movie 'Nuts'
00:54:01
Logical Fallacies – Scapegoating
00:58:28
Really Wrong: Exorcism across Europe
01:15:54
Quote
"For me, I think the greatest achievement of science is to allow humanity to realize that our world is comprehensible. Through science, rational thinking, we can understand how the universe works."
/Jim Al-Khalili, British theoretical physicist, author and broadcaster/

01:16:49
Outro

01:18:04
Out-takes