Don't stare into the Sun!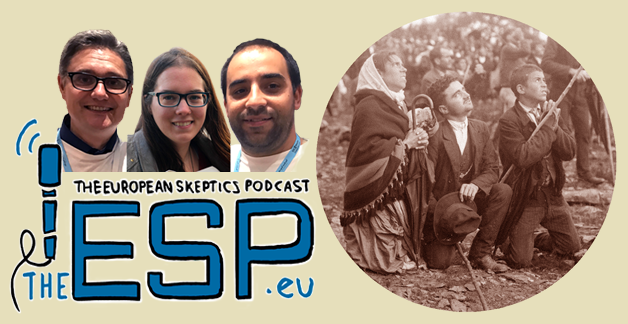 Both of the Earth's poles are going through extreme weather at the moment. Does that mean the end of the planet is already here? In TWISH we hear about Mussolini's rise to power and potential parallels to current world events. Pope Francis is said to take a stand against Russia, but we are not convinced. Then we have the news:
EUROPE / SPACE: Russian cosmonauts dressed in colours of Ukrainian flag?
– European Mars mission on hold as a result of cutting ties with Roscosmos
– OneWeb turns towards Space-X
RUSSIA: TikTok directs users to fake news about Ukraine war
RUSSIA: Putin's war propaganda becomes 'patriotic' lessons in Russian schools
SCOTLAND: Late apology for witch-hunt cases
PORTUGAL: Voting is open for the Flying Unicorn Awards
INTERNATIONAL: BMJ paper assesses publication bias in homeopathy related articles
There are a lot of anti-abortion nuts in Poland ready to harass Ukrainian refugees and all of them share this week's Really Wrong award.
Enjoy!
Segments: Intro; Greetings; TWISH; Pontus Pokes The Pope; News; Really Wrong; Quote And Farewell; Outro; Out-Takes;

0:00:27 INTRO
0:00:54 GREETINGS
Extreme record heat waves in both North and South pole regions
0:10:03 TWISH – THIS WEEK IN SKEPTICAL HISTORY
23 March 1919: Benito Mussolini's Fascist Party launched
0:16:15 PONTUS POKES THE POPE
Frankie to use the Cruciatus Curse against Russia. But also Ukraine?!
0:22:12 NEWS
EUROPE / SPACE:
– Russian cosmonauts dressed in colours of Ukrainian flag?
– European Mars mission on hold as a result of cutting ties with Roscosmos
– OneWeb turns towards Space-X
RUSSIA: TikTok directs users to fake news about Ukraine war
RUSSIA: Putin's war propaganda becomes 'patriotic' lessons in Russian schools
SCOTLAND: Late apology for witch-hunt cases
PORTUGAL: Voting is open for the Flying Unicorn Awards
INTERNATIONAL: BMJ paper assesses publication bias in Homeopathy-related articles
0:46:35 REALLY WRONG
Really Wrong: The Polish 'Life and Family Foundation' is handing out anti-abortion propaganda to arriving Ukraine refugees
Jasna Góra monastary tweets that abortions are worse than the war
Miscellaneous other stupid statements by:
Wacław Depo, the archbishop of Częstochowa
the Polish Association of the Defenders of Human Life
Father Tomasz Kancelarczyk, head of the Little Feet Foundation
0:51:23 QUOTE AND FAREWELL
"There is nothing in the understanding which has not come from the senses, except the understanding itself, or the one who understands."
/ Gottfried Wilhelm Leibniz (1 July 1646 [O.S. 21 June] – 14 November 1716), German polymath active as a mathematician, philosopher, scientist, and diplomat. He is a prominent figure in both the history of philosophy and the history of mathematics. /
0:53:05 OUTRO
0:54:20 OUT-TAKES