We are all animals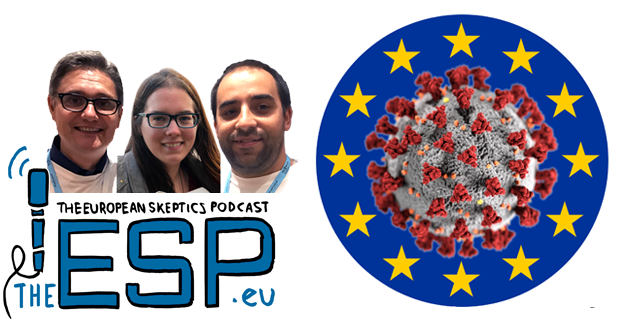 Annika is back in Europe and for unclear reasons we may all move to an uninhabited island in Sweden (don't hold your breath). The German Informations­-Netzwerk Homöopathie (INH) is sending an open letter to the new German health minister Karl Lauterback – we should all retweet about this to make sure he reads it! In TWISH we hear about how one of the worst fraudulent scientific(?) papers ever, authored by Andrew Wakefield, was finally retracted in 2010. No pope to poke today, so we then head for the news:
EUROPE: WHO – 732 days in 15 figures
EUROPE: WHO – End of pandemic in sight?
FINLAND: Biodiversity-loss denial is the new craze?
HUNGARY: The Hungarian Medicines Agency files official complaint over misleading claims about Favipiravir
GERMANY: The bright side of having pseudosciences around?
UK: Measles warning for children as jab rate falls in England
UK: People's preference for honesty is key for a working democracy
Several awards to hand out today: Eric Clapton gets a dishonorable mention, the Polish PiS-party get a repeat prize and the German Catholic Church gets a brand new Really Wrong Award for persecuting and harassing their own people for their sexual orientation. Journalist Hajo Seppelt gets a Really Right Award Award for his documentary "Wie Gott uns Schuf".
Enjoy!
Segments: Intro; Greetings; TWISH; News; Really Wrong / Really Right; Quote And Farewell; Outro; Out-Takes;

0:00:27 INTRO
0:00:54 GREETINGS
Let's all move to an uninhabited island in Sweden!
INH addresses new German health minister Karl Lauterbach on Twitter to re-think insurance and state support for homeopathy
0:08:25 TWISH – THIS WEEK IN SKEPTICAL HISTORY
2nd February 2010 – The Lancet formally retracts Andrew Wakefield's 1998 paper
0:14:10 NEWS
EUROPE: WHO – 732 days in 15 figures
EUROPE: WHO – End of pandemic in sight?
FINLAND: Biodiversity-loss denial is the new craze?
HUNGARY: The Hungarian Medicines Agency files official complaint over misleading claims about Favipiravir
GERMANY: The bright side of having pseudosciences around?
UK: Measles warning for children as jab rate falls in England
UK: People's preference for honesty is key for a working democracy
0:41:34 REALLY WRONG / REALLY RIGHT
Dishonorable mention: Eric Clapton says vaccinated people are under mass hypnosis
Really Wrong (reprise): PiS for their abortion laws (again!) – Woman dies because denied abortion
Really Wrong: Catholic Church in Germany for forcing people to hide their true nature in fear of being fired
Really Right: Hajo Seppelt for the documentary "Wie Gott uns schuf"
0:48:02 QUOTE AND FAREWELL
"Seen in the light of evolution, biology is, perhaps, intellectually the most satisfying and inspiring science. Without that light it becomes a pile of sundry facts — some of them interesting or curious but making no meaningful picture as a whole."
/ Theodosius Dobzhansky (25 January 1900 – 18 December 18), prominent Ukrainian-American geneticist and evolutionary biologist, and a central figure in the field of evolutionary biology. /
0:50:31 OUTRO
0:51:46 OUT-TAKES