The first line of the Ukraine national anthem translates to 'Ukraine is not dead yet'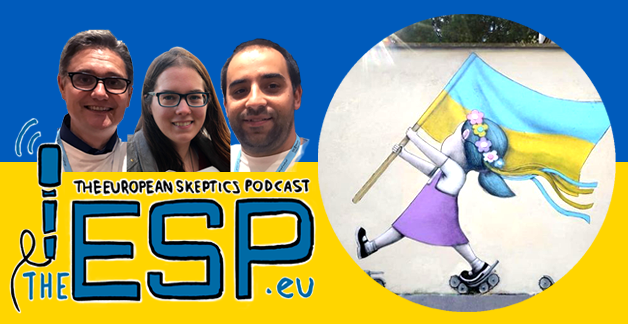 This episode is a special about the Russian war and invasion of Ukraine. No TWISH, no Pope and no surprise as to who gets the Really Wrong award*). We do urge anyone who can to support the people of Ukraine, and provide links to some of the charities you can donate to. Topics we discuss are:
UKRAINE: DW Fact Check – Do any of Putin's claims hold water?
INTERNATIONAL: Media giants clamp down on Russian state-own propaganda channels, RT and Sputnik
RUSSIA: Partial restriction on access to Facebook to Protect Russian media
RUSSIA: Thousands of people arrested at anti-war protests
CZECHIA: Chief prosecutor warns against public support for Russian aggression (what about free speech?)
UKRAINE: Fake videos showing Russian invasion
UKRAINE: Chernobyl radiation levels increase significantly after heavy fighting around the area
UKRAINE: Is the Ghost of Kyiv real?
UKRAINE: World's heaviest aircraft confirmed destroyed
SPACE: Franklin Mars rover likely not a go this year due to Russia's war
SPACE: UK satellite company OneWeb cancels all Russian launches after dramatic fallout with space agency
*) Spoiler, it's Putin.
Segments: Intro; Greetings; News; Really Wrong; Charities For Ukraine; Quote And Farewell; Outro;

0:00:27 INTRO
0:00:54 GREETINGS
War in Ukraine – a wider European scope
Did Putin threaten anyone who dares interfere with nuclear retaliation?
0:17:55 NEWS
UKRAINE: DW Fact Check – Do any of Putin's claims hold water?
INTERNATIONAL: Media giants clamp down on Russian state-own propaganda channels, RT and Sputnik
RUSSIA: Partial restriction on access to Facebook to Protect Russian media
RUSSIA: Thousands of people arrested at anti-war protests
CZECHIA: Chief prosecutor warns against public support for Russian aggression (what about free speech?)
UKRAINE: Fake videos showing Russian invasion
UKRAINE: Chernobyl radiation levels increase significantly after heavy fighting around the area
UKRAINE: Is the Ghost of Kyiv real?
UKRAINE: World's heaviest aircraft confirmed destroyed
SPACE: Franklin Mars rover likely not a go this year due to Russia's war
SPACE: UK satellite company OneWeb cancels all Russian launches after dramatic fallout with space agency
0:50:20 REALLY WRONG
Really Wrong: Russian government and Vladimir Putin spreading misinformation
0:57:06 CHARITIES FOR UKRAINE
Ukrainie Humanitarian Fund:
Razom for Ukraine:
The Kyiv Independent:
UNICEF:
Migration Aid:
1:00:16 QUOTE AND FAREWELL
"What experience and history teaches us is that people and governments have never learned anything from history, or acted on principles deduced from it."
/ Georg Wilhelm Friedrich Hegel (27 August 1770 – 14 November 1831), German philosopher. He is considered one of the most important figures in German idealism[30] and one of the founding figures of modern Western philosophy. /
1:02:50 OUTRO