War and anti-vaxxers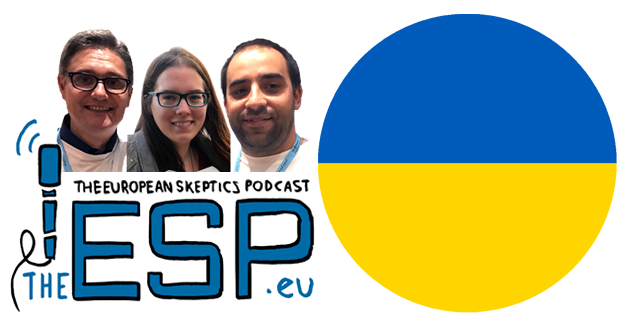 We comment on some aspects of the war and also how you can best send help. In TWISH we celebrate good skeptic Massimo Polidoro and then we poke Pope Francis, whose buddy was just sent to jail for sex abuse. After that, we have the news:
UKRAINE: The latest disinformation trends
RUSSIA: Why has the letter Z become the symbol of war for Russia?
RUSSIA: Lawmakers approve decision to imprison anyone contradicting government propaganda
UKRAINE: Putin's denazification campaign ends up destroying holocaust memorial
INTERNATIONAL: Lancet study of 300 million administered doses: mRNA vaccines are safe and side effects mild
HUNGARY: Centre for Social Research – Study on vaccinated vs unvaccinated population reveals interesting facts
HUNGARY: New study estimates just how profitable being and anti-vaxxer can be
Danderyd Hospital in Sweden gets this week's Really Wrong Award for allowing nonsense in their post-covid treatment program.
Enjoy!
Segments: Intro; Greetings; TWISH; Pontus Pokes The Pope; News; Really Wrong; Quote And Farewell; Outro; Out-Takes;

0:00:27 INTRO
0:00:53 GREETINGS
Russia ceases joint experiments on ISS
The best ways to help
0:10:58 TWISH – THIS WEEK IN SKEPTICAL HISTORY
10 March 1969: Massimo Polidoro was born this week in 1969
0:16:15 PONTUS POKES THE POPE
Frankie's buddy, bishop Gustavo Zanchetta, gets four and a half years for sex abuse
0:20:46 NEWS
UKRAINE: The latest disinformation trends
RUSSIA: Why has the letter Z become the symbol of war for Russia?
RUSSIA: Lawmakers approve decision to imprison anyone contradicting government propaganda
UKRAINE: Putin's denazification campaign ends up destroying holocaust memorial
INTERNATIONAL: Lancet study of 300 million administered doses: mRNA vaccines are safe and side effects mild
HUNGARY: Centre for Social Research – Study on vaccinated vs unvaccinated population reveals interesting facts
HUNGARY: New study estimates just how profitable being and anti-vaxxer can be
0:51:13 REALLY WRONG
Really Wrong: SWEDEN: Public hospital MD advocates raw food and breathing therapy for post-covid patients
0:56:07 QUOTE AND FAREWELL
"We are accused of being blasphemous, but we are not interested in people's religious beliefs. We are people who want to understand the world around us. When people have both sides of a story, they can make up their own minds."
/ Massimo Polidoro (10 March 1969 – ), Italian psychologist, writer, journalist, television personality, co-founder and executive director of the Italian Committee for the Investigation of Claims of the Pseudoscience (CICAP). /
0:58:06 OUTRO
0:59:21 OUT-TAKES