What is humour allowed to do?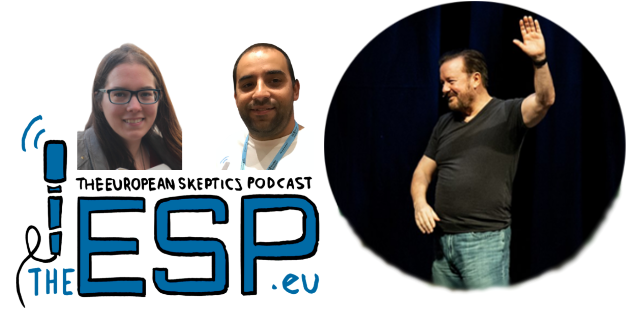 Despite us still missing a cheery Hejsan Hejsan, we are back with a new episode! We talk about Nikil Mukerji (interviewed in Episode 252), who wrote a paper about Bullshit with his colleague Adriano Mannino. If you want to meet skeptics like Nikil Mukerji, then European Skeptics Congress in Vienna is the right place for you. Early bird prices still apply until the 30th of June! Another ESC we talk about is the Eurovision Song Contest, which will not take place in Ukraine in 2023 after all.
This week's TWISH celebrates Ricky Gervais' birthday on the 25th of June 1961. András and Annika discuss what jokes and humour can do to not discriminate against minorities without being censored and hence talk about the comedian's jokes in particular. (Picture credit: Wikimedia Commons; Raph_PH 2019).
The news this week were the following:
INTERNATIONAL: European researchers are critical about UN sustainable development goals
INTERNATIONAL: Only 1 in 20 medical treatments have clear benefits supported by evidence
ITALY: Weird consequence of climate change: stuff emerging from the depth of Po River
HUNGARY: Former performer, who sells food supplements gets investigated by Competition Authority
We have criticized Prince Charles before. For his blatant promotion of So Called Alternative Medicine, he receives this week's prize for being  Really Wrong.
Enjoy!
Segments: Intro; Greetings; TWISH; News; Really Wrong; Quote And Farewell; Outro; Out-Takes
0:00:26 INTRO
0:00:51 GREETINGS
Book your tickets for ESC! Early Bird until 30th of June!
Eurovision Song Contest won't be held in Ukrain
Nikil Mukerji about Bullshit (et al.)
0:07:10 TWISH – THIS WEEK IN SKEPTICAL HISTORY
25th June 1961 – Ricky Gervais was born. Happy Birthday!
0:16:03 NEWS
INTERNATIONAL:

European researchers critical about UN sustainable development goals
INTERNATIONAL: Only 1 in 20 medical treatments have clear benefits supported by evidence
ITALY: Consequence of climate crisis: Stuff emerging from depth of waters
HUNGARY: Former performer, who sells food supplements, gets investigated
0:31:16 REALLY WRONG
Prince Charles for promoting quackery
0:33:03 QUOTE AND FAREWELL
"There are two ways to be fooled. One is to believe what isn't true; the other is to refuse to believe what is true."
/Søren Kierkegaard, Danish philosopher, 1813-1855, TWISH in 324/
0:33:49 OUTRO
0:35:04 OUT-TAKES
CHARITIES FOR UKRAINE
Ukraine Humanitarian Fund
Razom For Ukraine
The Kyiv Independent
UNICEF
Migration Aid