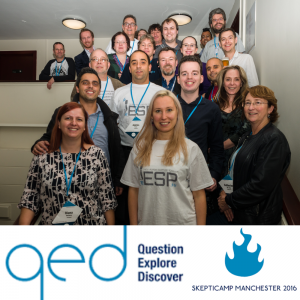 On this episode, you'll find news, events and interesting topics, including 1023 in Slovakia, Czech Republic, Austria and Germany, Edzard Ernst's new book, The Golden Board 2016 Awards in Germany, unlicensed blood drug for sale, Hungarian cancer, "bishop" convicted for selling MMS in Ireland, Finnish Trump-game, CICAP's telepathy test makes it to the news, the Good Thinking Society's first maths project starts and the governing Polish party is Really Wrong.
Also featuring a report from QED 2016 as well as an interview with Edinburgh Skeptics.
 
Segments:
Intro; Greetings & Feedback; On this day; What's on in Europe?; What's hot in Europe?; QED report; Really Wrong; Interview with Edinburgh Skeptics; Quote
 
Show notes:
00:00:00
INTRO music
 
00:00:26
Greetings & feedback
00:10:13
On This Day: 7th November
Marie Skłodowska Curie (born 7 November 1867)
Marie Curie the scientist
 
00:16:00
What's on in Europe?
00:21:41
Hot in Europe
Unlicensed drug for sale
TV Star "professor" in court
"Bishop" convicted for selling MMS
Trump-game to teach children for critical thinking in Finland
Telepathy test conducted by CICAP in the Italian Focus Magazine
The Good Thinking Society's first Maths project
00:45:09
QED-report:
Ryan Harding (UK), Walkiria Nubes (Mexico) – GSoW
Andreas Kyriacou (Switzerland, Chairman of the Swiss Rationalists)
Vlad Luca (Romania)
00:51:04
Really Wrong: the governing Polish party.
 
00:56:41
Interview with Edinburgh Skeptics (Mark Pentler and Sean Slater)
The Edinburgh Skeptics website
01:11:06
Quote
"It is the mark of an educated mind to be able to entertain a thought without accepting it."
/Aristotle, Greek philosopher, 384-322 BC)/
 
01:12:23
Outro
 
01:13:38
Out-takes