Edzard Ernst joins us to tell all about his new book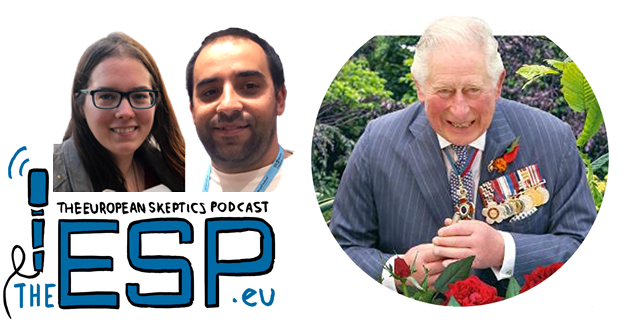 Before we get into the interview with Edzard Ernst we are a bit nostalgic about hearing that the end of the ISS is getting closer. András has an update to the Favipiravir controverse from last week and then we get to hear from the horses mouth how Prince Charles became the 'Alternative Prince'. IN TWISH we learn about Dmitri Mendeleev and his periodic table. After that, we get into the news:
SWEDEN: Agency to tackle foreign misinformation re-established
ROMANIA: 2/3 people believe COVID was imposed on the world by global elite for control, 1/3 thinks microchips are being implanted with vaccination
SWITZERLAND: Man in Geneva hears God after antibiotic treatment
INTERNATIONAL: Cranky Uncle game now available in Dutch and German
Enjoy!
Segments: Intro; Greetings; Interview; TWISH; News; Quote And Farewell; Outro; Out-Takes;

0:00:35 INTRO
0:00:59 GREETINGS
End of ISS in sight?
Update on the Favipiravir controversy
0:09:34 INTERVIEW
Edzard Ernst, about his latest book – "Charles, the Alternative Prince"
0:26:54 TWISH – THIS WEEK IN SKEPTICAL HISTORY
Dmitri Ivanovich Mendeleev was born 8 February 1834
0:34:52 NEWS
SWEDEN: Agency to tackle foreign misinformation re-established
ROMANIA: 2/3 people believe COVID was imposed on the world by global elite for control, 1/3 thinks microchips are being implanted with vaccination
SWITZERLAND: Man in Geneva hears God after antibiotic treatment
INTERNATIONAL: Cranky Uncle game now available in Dutch and German
0:45:59 QUOTE AND FAREWELL
"It is the function of science to discover the existence of a general reign of order in nature and to find the causes governing this order. And this refers in equal measure to the relations of man – social and political – and to the entire universe as a whole."
From the book "Periodic Law"
/ Dmitri Mendeleev (8 February 1834 – 2 February 1907), Russian chemist and inventor. He is best known for formulating the Periodic Law and creating a farsighted version of the periodic table of elements. /
0:47:06 OUTRO
0:48:21 OUT-TAKES